HOME > TRAVELOGUE > VISITING RASH 1 > DAY TWO, PART A
Travelogue
Visiting Rash in California
DAY TWO, PART A
January 27, 2001 (Saturday)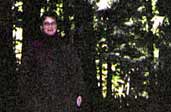 Click for more

Up and out fairly early, with a stop at Peet's Coffee & Tea. Our first destination of the day was Big Basin Redwoods State Park, south of Silicon Valley. We drove to the sounds of the Norman Bates Memorial Soundtrack Show1 on KFJC. When the signal faded, we munched on carrots and listened to Rash's excellent swing tape (taken from vinyl, often the same recordings but different mixes than found on the CDs I have at home ... we wondered which might be more accurate).



Click for more

Big Basin was noticeably colder than places we subsequently visited, and the approach was not entirely unlike the East Coast's Skyline Drive. We walked the easy Redwood Trail, seeing the so-called Mother and Father trees, among the tallest in the park (at ~300+ feet high, with huge circumferences).



Click for more

I'd not seen redwoods before and as reported they are unfathomably tall, their pinnacles hidden by the canopy. A lush green moss grows on many of them. There was evidence of prior forest fires which damaged some of the trees, and I surmised that the charred surface of one had been smoothed down by years of rainwater, consequently looking like a mass of wavy hair.

As we were leaving the park we stopped at an overlook of the serene foothills around Monterey Bay, the Bay itself just visible on the horizon [panoramic composite coming soon]. Then driving up through Cupertino we passed Apple Computer headquarters, and numerous houses with fruit-laden orange trees. From there we traveled the freeway north through more rural mountainous regions on the way to San Francisco. What gorgeous mountains! Eucalyptus trees and orange California poppies (red poppies rival sunflowers as my favorites), other wondrous foliage, much of it imported like the palm trees. I was quickly falling in love with California's beauty. We listened to the beginning of This American Life, and the title of one of the pieces really struck my fancy: "You're Not the President of Me." Disinterested in a political review (no matter how funny or insightful), we stuck in another tape which included pieces like Connie Francis' charming Stupid Cupid.

While conversing, I mentioned an article we have up at work discussing the art of product naming, specifically medicines, and Rash came up with a great fake name: Damitol.

We stopped at a rest area with a rather odd statue at the end of a short gardened walk up a hillside. It was a tribute to the Mission efforts in the area, embodied by a sculpture of a Franciscan monk on one bent knee, pointing accusingly out over the valley. I briefly considered taking a picture, but it was the most hideous statue I'd ever seen, and couldn't bring myself to waste the film. It looked like someone started with the smaller core of a sculpture upon which they'd poured a mass of concrete, and smoothed it out to create a larger, mildly grotesque figure.

We finally arrived in San Francisco, and headed directly into Haight-Ashbury. It is (still) a colorful place, and I was thrilled to finally see it. Still lots of hippies, young and old. Sometimes aging hippies can appear a bit sad, or rather, deflated. The few of that ilk I saw there made me wonder if they would have ever gone anywhere and done anything in a different era (I think not). My folks have said on more than one occasion that I'd probably have been a flower-child had I been a teenager during the Summer of Love. They may be right ... I certainly tended towards liberal idealism and rebellious individualism during my Reagan-era teenage years, and still do to a degree. But I digress2.

Haight-Ashbury was a mish-mash of ages and lifestyles (though no obvious yuppidom) all pretty loose and free, some really out there. The street had a bit of a carnival flair, what with all the colorful signs and outfits. The most notable mainstay were the numerous girls with long hair and long skirts. We peered into a few of the stores (don't recall seeing a Gap, the bane of many a formerly cool city district). We had pizza, and then milled around in various artsy shops. There was a fabulous neon sign above one, displaying a rocket poised for the stars, but I didn't think to take a single picture! Something to do next time, though I'd be reluctant to look so obviously like a tourist. Some great posters in one shop, Off the Wall.



Click for more

From there we went to Amoeba Music, the grooviest shop of its kind I've encountered (in 1998 Rolling Stone called it The Worlds Greatest Record Store). I spent most of my time in the expansive Jazz room. All sections seemed to be replete with both new and used CDs and LPs, and the collections were extensive. Like KFJC, Amoeba promotes lots of obscure stuff. I bought several CDs at discount prices.

We then walked around the Southeast corner of Golden Gate Park. Lots of families out in the Saturday sunshine. We meandered along the paths, through playgrounds and past park buildings. After doing some post-trip research, I've realized we walked right by the Herschell-Spillman Carousel and Sharon Cottage/Art Studio ... why didn't I pay more attention (and I think Rash even tried to point some of these out to me)? Carousels are my favorite rides, and it's rare to be around one nearing the century mark. I think I still must have been absorbing Haight-Ashbury, Amoeba, and the sunshine.



Click for more

Ready to leave the park, we decided to take a short-cut by climbing up an embankment and through some trees to the main roadway. We were stymied by a fence, but Rash spotted a ziplock bag in the dirt containing little white pills, unlabeled. I surmised it was an excellent spot for a drug-drop. Rash supposed they may have been ditched for other reasons. We left them.

Being late-afternoon at this point, we headed to the new-deco Commodore Hotel, which turned out to be fun visually (so is their web site), clean, comfortable, and well-situated within the city. We took a room near the top and back, quiet and darker at night than a street-view. After we were situated we headed back out, this time walking to San Francisco's famed Chinatown, in North Beach.


[Proceed to Day Two, Part B >]
[Days: One, Two A and B, Three A and B, Four]


---
1 - DJ Robert Emmett plays old movie, TV, and Broadway theme-music and show tunes, from 9 AM to noon on Saturday mornings (Pacific Time). KFJC is the radio station of Foothill College in Los Altos Hills, and focuses on a mixture of recently released and obscure music. You can tune in via the Internet.
[back]

2 - Read a brief description of the origins of the peace symbol.
[back]