HOME > TRAVELOGUE > VISITING RASH 1 > DAY THREE, PART A
Travelogue
Visiting Rash in California
DAY THREE, PART A
January 28, 2001 (Sunday)


Click for more

This morning we'd planned to have a Japanese breakfast at Niko Hotel, a short walk from the Commodore. We arrived at the Niko only to find that the buffet was not only expensive, but included a lot of American food we didn't want. We walked around the lobby looking at the decorations. There were a row of these awesome floor-lamps, shaped kind of like slightly-melted 6-foot tall vases, covered in a red-orange fabric.



Click for more

Rash took a seat in a wonderful chair, high-backed and sided with a groovy swirly pattern. Would have been cozy for book-reading. We exited down the interior lobby steps, which were followed by a waterfall. I stopped and closed my eyes to listen to its lovely sound.

We breakfasted at Dojima An1, a little restaurant we found open just down the street. I'd been curious about Japanese breakfasts since a friend mentioned them to me last year (I don't like typical US breakfast foods). The waitress seemed a little nervous, not sure that we'd actually want what they served.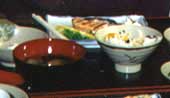 Click for more

It was interesting and delicious (though the green tea seemed a bit watery). Grilled salmon (at 6 or 8 ounces, Rash said it was larger than you'd get in Japan), sticky rice, a little package of nori sheets, miso (Rash tossed the Chinese spoon aside, disgusted; you'd apparently never get one in Japan), yellow pickles (tsukemono in Japanese, some kind of pickled root or vegetable—Rash says he's more familiar with a purple pickle made made from an entirely different plant), a perfectly cooked hard-boiled egg (neither of us was interested in the traditional raw one over the rice), and a shaved (white radish?) salad topped with twenty or thirty of these tiny almost transparent fish, each about the size of a half a toothpick. We ate every bite.



Click for more

Click for more

From Dojima An we did a bit of walking, taking in the steeper city streets, the interesting architecture, and the fresh morning air. We passed a theater with elaborately carved (cast?) and painted window façades, and saw many other buildings with well-designed signs and/or exteriors. San Francisco is such a lovely and diverse city. As we walked, Rash explained the difference between the different types of public street transportation: cable-cars, trolleys, trolley busses, and cable car busses2. Of course there are regular busses, cabs, etc., and the BART (Bay Area Rapid Transit).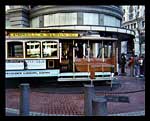 Click to enlarge

My head swimming with all of the variety, we walked down to an area where one of the cable car lines ends. A cable car arrived as we stood there, all of the passengers disembarked, the two workers got off, grabbed different corners of the cable car, and pulled it around in a circle so that it was headed back where it came.



Click to enlarge

Trolleys ran through that same area, so we hopped on one. We sat near the front, and the trolley driver was a bit of a character. He was outspoken at cars which cut him off ("They're the reason we get a bad name!"), and complained (to no-one in particular) about the management of transit workers. We rode our way down to Fisherman's Wharf, getting a view of the extended SF pier system (including one labeled "America's Cup 2000"), the Bay and Alcatraz island, and the Bay Bridge.

We hopped off in the center of Fisherman's Wharf and walked around the fish-market area. (No, we didn't get to Ghirardelli Square ... gotta save something for my next visit.) Among other seafood stuffs, the market vendors sold the large pacific crabs (Dungeoness? Alaskan King?), and if I hadn't been full of breakfast I'd have snagged a leg or two. Crabs and sushi: my favorites.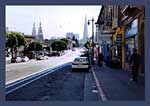 Click to enlarge

From Fisherman's Wharf we walked back into the city, stopping at the original Tower Records (rather disappointing, especially after Amoeba) and looked for a bus stop. Many of the trees lining the sidewalk were well-groomed, and Rash called them "lollipop trees." Without too much delay we caught a trolley bus and made our way into Chinatown (the bus was nearly empty when we first boarded, but was soon filled with Chinese locals) and then walked back to the hotel. We checked out, grabbed the car, and drove to our midmorning destination, the Exploratorium.


[Proceed to Day Three, Part B >]
[Days: One, Two A and B, Three A and B, Four]


---
1 - Dojima An, 219 Ofarrell St, SF-Union Square, (415) 956-0838
[back]

2 - Cable cars are open train cars (think Rice-a-Roni) pulled along by cables that run along the track-line. Trolleys look a little more like enclosed train cars, and there are several cool-looking models in use. They are electricity-powered by antenna running along overhead wires, and the traditional "trolley" runs on tracks. Bus trolleys are busses with the same kind of antenna, and they are remarkably quiet. Cable car busses are petrol-powered busses shaped like cable cars, and usually are of the city-tour variety (we have them in DC too).
[back]