HOME > TRAVELOGUE > TRANSFORMUS 2006
Travelogue
Transformus 2006 — Horse Shoe, NC
July 21-24, 2006
[Skip to Photos or start the Slide Presentation.]
Transformus was our first regional burn. There were nine in our group, Kevin and me, Maddy, Ben, Louie, Frank and Leah, and Sara and Mike. We began planning months in advance, even meeting to plot our participatory contribution: "land boats" made out of PVC pipe, put together and decorated differently depending on the type of boat we'd be using at the moment … pirate ship, dinghy, ghost ship, etc. The idea was that we'd invite people "aboard" and cruise around the event, changing passengers and meeting new people along the way. Several of us shopped or sewed or designed to help bring our ideas to fruition. Here's my pirate flag stencil design: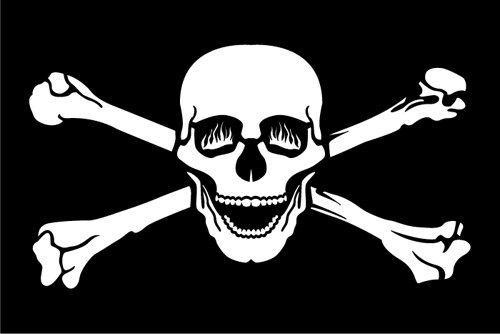 But alas, things didn't quite turn out as we'd hoped (I'm getting used to this reality). When Kevin and I arrived we were spanked by the Greeters (being Transformus virgins), and then proceeded to the camping areas and parking. When I stepped out of the vehicle, I found I couldn't stand up straight. No, the paddling wasn't too hard. Between the greeters and parking I'd somehow thrown out my back (actually, the problem originated in my gluteus maximus). I was in a lot of pain for the entire four days.
Being mostly unable to go anywhere or do anything (walking to the porta-potties was a challenge) really put a damper on the event for me. Several of us had signed up to be Greeters on Friday night, myself included, but I couldn't participate. Kevin, Frank and Louie had a fabulous time greeting, for all the reasons I thought it would be a great volunteer gig: meeting lots of people in a fun way.
I'd hoped to dance a lot during the weekend, but that was right out. Luckily, there was a camp of massage therapists not far away — InSureHands — giving free massages, plus one in a nearby tent, plus Sara's a massage therapist too. This meant I got bodywork throughout the weekend, and was shown stretches (which I did), and was given muscle-relaxers and anti-inflammatories by Frank and another camper. And just before we left, neighbor Phoenix mixed together some essential oils (eucalyptus, thyme, lemon grass, etc.) in an almond oil base, for me to rub on the affected area. Thanks to everyone who tried to assist me!
The boat plan never happened. I don't know if it was my condition or just general malaise that kept the boats under wraps, but the creative energy of our group never really materialized as it has at past events. The most we could all do was to set up camp, including the "posh palace," Maddy's large dome-ish tent which we filled with rugs, pillows, draped inside with tapestries, and lit with various lanterns and battery-powered string lights. This provided us with a good chill / crash space. Everyone (else) had a great time out on Friday night, and I was feeling good enough Saturday evening to hang out at the big burn for a while, watching the fire artists and the Bamboozler get consumed by flames. Kevin and I were the only ones in our group to stay Sunday night as well, but we were both worn out and decided to nap, which meant we missed the Temple burn. Oh well. Next year will be different.
Start the Slide Presentation…
...or select any of the following thumbnails to see more:
| | | | | |
| --- | --- | --- | --- | --- |
| | | | | |
| | | | | |
| | | | | |
| | | | | |
| | | | | |
| | | | | |