HOME > TRAVELOGUE > BURNING MAN 2005
Travelogue
Burning Man 2005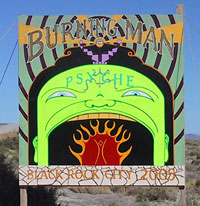 Theme: Psyche: the Conscious, the Subconscious, and the Unconscious
Temple: Temple of Dreams, by Mark Grieve
Streets: Amnesia, Bipolar, Catharsis, Delirium, Ego, Fetish, Gestalt, Hysteria, & the Feedback Loop (around Center Camp)
Under the Man: A funhouse maze under a circus tent, housing a freak show of the self.
Population: ~35,500
Links at BurningMan.com:
• What Is Burning Man 2005
• 2005 Afterburn Report
• 2005 Burning Man Census
Thank You…
…to my friend Dorian Winterfeld for writing a Perl script to auto-generate this travelogue's whopping 280+ slide pages, from my template. He saved me hours of work. We hope to eventually share the script.
Burning Man 2005 — Black Rock Desert, NV
August 29-September 6, 2005
[Skip to Photos or start the Slide Presentation (caution at work).]
[Third Edit, October 26, 2005]
Burning Man is an annual art festival and temporary community based on radical self expression and self-reliance in the Black Rock Desert of Nevada.
Given my lengthy description of Burning Man in 2004, I'll skip the overview this time around (read about 2004 if you're interested).
Instead, here are some notes and highlights.
Getting There
We almost didn't go. We sold our early-purchase $175 tickets to Joe and Valerie in April.
Changing our minds at the turn of August, we managed to get one $145 discount ticket through our friend Emily (who moderates ePlaya), and one $200 from John R., so we got in for $5 less!
Our bicycle transport by Joe and Valerie had to be scrapped at the last minute due to a $6000 transmission problem. But after inquiring on-list about bicycles, I was gifted an "extra" bike at Da Rat's (thanks Chris!). When we went to pick it up, Da Rat had a second available for Kevin. What luck! The thrift stores we'd stopped at hadn't offered anything worthwhile.
We arrived a day later than planned, because our flight out of BWI was cancelled due to mechanical problems.
Being There
When we got to BM on Tuesday, the amount and quality of art and camps—already fully set up—far surpassed last year's burn.
In fact, this year's BM was way better then last year's! (And 2004's was wonderful, 'cause it was our first.) Kevin and I had a really great time. We drank a lot of water starting early and the week went by smoothly. There's something special about attending BM for a second time. You're over the initial shock of it all and can get in the groove much faster.
Dust storms were quite minor (we missed the bad day, Monday). We only really encountered a couple of persistent blows, out on the open playa on Sunday afternoon, and never donned goggles.
This was the first year official theme camp areas were extended back into the camping grid. Nice change.
This was also the first year the Man was decorated with two-toned neon (with curly accents). I saw a statement somewhere declaring the Man has grown ovaries. There was a terrific funhouse maze under the Man, and the entrance featured a Laughing Sal! As I stood there looking at it, I heard a man nearby authoritatively tell his friend, "There are only a handful of those left." A few moments later, I heard another man nearby authoritatively tell a friend, "There are hundreds of those all over the US."
Bob's Rainforest
We found Bucky and Emily at Bob's Rainforest, which had a good location at the corner of 6:30 and Bipolar. Everyone at Bob's Rainforest had a Bob nickname. Head Bob, Bob's Your Uncle, What About Bob, "BOB" (with finger quotes), Obi-Wan-B-O-B, Yes Siree Bob, etc.
Bob' s Rainforest had a waterfall, a walk-through mister, and a Pants Cannon — like a potato cannon, but it shot pants at "shirtcockers" strolling past. Those are guys who wear only a shirt, so they're exposed. Bob's complaint was that they should either fully commit (go nude) or cover their wang. The cannon had quite a range; one of the test shots traveled diagonally across the intersection, past one camp, and over the RV at another. Imagine their surprise to have pants come sailing into camp!
(After being steeped in "Bob"s all week, as we were leaving we discovered a pretty cool radio station out of Reno called Bob Radio. According to the DJ they'd gone unnamed for a year, when a listener called in and suggested Bob.)
Highlights
Bucky and Emily got married at Burning Man this year! I was asked to be the photographer, and the Sparkle Wedding starts here.
Even though it meant we wouldn't see as much, Kevin and I made a point of meeting and getting to know people this time around. This excellent decision had us hanging out with Lusty (Joyce) and David, Toller, the Paradise Orchestra, folks at Fandango (a nearby bar), the friendly people around Bob's, and a pleasantly chatty trio of guys (John, Chris and Jonathan) on burn night, to name a few. We also managed to say hello to Troy and John at HeeBeeGeeBee Healers, one of the busiest theme camps we encountered.
We met a number of people who were there with their dads. Sure wish I coulda brought mine.
We lost our favorite snake, Cory the Coral Snake, at Fandango. But then we found a little stuffed cheetah on the playa, so all was well. And speaking of moop (matter-out-of-place), at one point Kevin was complaining about needing padding on his handlebars next year. I said he should have something which wrapped around the bars neatly. And moments later, out of the dusty playa blew a piece of foam tubing, already slit, and just the right length.
I rode in Critical Tits, with Lusty. This is an annual long-ish bike ride of reportedly 3000 topless women this year, which starts out on the playa and eventually winds its way back into and through some of the city. Naturally, the route is pretty thickly lined on both sides with spectators, who cheer and shout encouragement, sometimes offer a quick cooling mist as you pass, and occasionally hand out sliced fruit or aloe. (And take photos, though they're not supposed to …)
Kevin rode around backwards on his bike again, this time often wearing his fancy Pakistani hat, red Chinese coat, and waxed mustache (sometimes beaded). He was frequently flagged down by folks and said a hundred people took his photograph.
On the night the man burned, Kevin found a fairly large black spider crawling on his sleeve, and webbing all up and down both arms. Who knows how it got out there on the empty playa, way out past the temple, far from Black Rock City. He put it on the ground, then flagged down a lone cyclist (who turned out to be a funhouse artist). Kevin: "Look at the moop I found!" She: "That's not real." Kevin pokes it. It moves. She jumps, exclaiming, "How did it get out here?!" You see, there's just about NO life on the alkaline playa, not even insect, and a large black spider on the white hardpan really seemed incongruous.
We enjoyed reading Piss Clear and the Black Rock Beacon, two daily playa publications. I especially enjoyed Malderer's Rants. He was a friendly bartender at Fandango.
At one point during an outing I realized the pump on my spray bottle had broken. Just as I bemoaned this fact, a man walked up and gifted me (sorry Malderer ;o) a very nice soldered metal earring of the Man with a 2005 under him. It and the Hello Shiva dogtag I received this year were my two favorite keepsakes.
We didn't visit a single dome this year. (Eating a tasty dinner [courtesy of Vika] in one for about 15 minutes doesn't count.)
Start the Slide Presentation (caution at work)…
...or select any of the following thumbnails to see more:
Artwork
Camps
Scenery
The Man and Funhouse
People
Department of Mutant Vehicles (Art Cars)
Sparkle Wedding
Burning the Man
Burning the Temple