HOME > TRAVELOGUE > BURNING MAN 2004
Travelogue
Burning Man 2004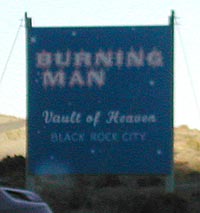 Theme:
Vault of Heavan
Temple:
Temple of Stars, by David Best
Streets:
Mercury, Venus, Earth, Mars, Jupiter, Saturn, Uranus, Neptune, Pluto, Sedna, & Orion's Belt (around Center Camp)
Under the Man:
"A stellar observatory, with space-themed and scientific art. Around its outside, ten 'stages' were built, each with a participant-submitted design meant to evoke a scene in an 'alternate universe.'"

Population:
35,400
Links at BurningMan.com:
• What Is Burning Man 2004
• 2004 Afterburn Report
• 2004 Burning Man Census
Burning Man 2004 — Black Rock Desert, NV
August 29-September 5, 2004
[Skip to Photos, caution at work.]
[Fourth Edit, August 19, 2008]
[All links below that take you away from my site open in a new window.]
[See my Travelogue index for Burning Man 2005, 2006, and other events.]
Burning Man is an annual art festival and temporary community based on radical self expression and self-reliance in the Black Rock Desert of Nevada.
The best laid plans…
For most of the last year, Kevin and I looked forward to attending Burning Man. Our friend Michelle had initial commitments from 6 people, but as August drew nearer two of our party dropped out. Still, we'd planned to hook up with friends of Michelle's once we arrived in Black Rock City (a.k.a. BRC, the temporary community that springs up in Black Rock Desert).
We decided to drive our camping gear, etc. to Nevada, with Michelle and Ben doing the outbound leg while we flew and vice versa for the return trip. Michelle volunteered her car as tow vehicle and reserved the smallest U-Haul trailer months ahead, into which our gear would be stowed. But then U-Haul didn't have the small size on pickup day and we were given a trailer too big, it turned out, for Michelle's car to handle. She and Ben got as far as Tennessee, where her car started to overheat. After talking to a couple of mechanics, she was told, "that car is NOT going to tow that trailer … we don't know why U-Haul tells people otherwise."
An urgent call from Michelle came in. After some scrambling we decided that we all still wanted to go. Though most of us could barely afford the trip as planned, we had no other option but to rent a van to continue. This raised our basic rental bill from $315 to $1050, plus any mileage over our pre-agreed limit. (Plus the cost of a bike rack, plus — in the end— another $200 for gas over the limit, AND $450 to cover damage the bike rack caused to the back of the van. If Burning Man hadn't been such an amazing event, we probably would have called the trip a big disaster. Well, it WAS a disaster for all of us financially.)
If this is your first time, no explanation is possible.
If you are returning, no explanation is necessary.
Kevin and I arrived at Reno International on Sunday afternoon. Ben and Michelle greeted us joyously at baggage claim, then we went out to the airport garage and repacked the van to include us and our luggage (they'd had to leave a bunch of things in Michelle's car, which was still in Tennessee). East of Reno we passed our exit to BRC, going a little further to fill our water jugs, get last minute groceries, and repacked again. Finally we headed down the last set of lonely two-lane roads, past Pyramid Lake, to Empire where we stopped for Indian tacos. Then came the last town of Gerlach: no groceries available, but there are two bars.
Some distance beyond Gerlach we spotted the city on the playa and eventually the man himself, standing on his dome. We arrived prior to the official start of Burning Man, so there was only a small line of cars working their way into BRC. There's only one way to get into the city — unless you parachute, which a number of people did — and at the beginning of the long entrance was a lone woman energetically singing and playing guitar.
The lengthy approach to the gate was lined with a sequence of dozens of small signs, regaling us with quotes to set the tone of the community and admonishing us to understand certain guidelines, like to only drive 5MPH to keep down the dust. Complying was easy because the signs were engaging and spaced to keep us going slowly, a clever tactic. We tuned into one of the BRC radio stations and listened to the entertaining (and repeating) spiel provided for new arrivals.
When we reached the gates a screener gathered tickets, checked us for stowaways (luckily he didn't make us unpack again!) and sent us on to the welcoming booths. There we were drawn out of the van again by a very friendly woman who gave the Burning Man virgins (everyone but Michelle) the choice of playa bindis or spankings, showered us with helpful information and literature — like the What, Where, When guide, maps and theme camp listings — and we were in!
We'd been directed to look for a sign for Bucky and Emily Sparkle at 7:30 and Jupiter, to find their true location, which was at 7:35. These friends of Michelle's welcomed us warmly and since the sun was setting, we set up our basic camp of tents and shading tarps. Over the next couple of days we expanded their shade structure (kitchen and hangout space) with our additions and more people and tents arrived.
Radical Self-Expression
It's hard for me to describe what radical self expression is (you'd only have my notions), but it always involves creativity. For more on this topic, see this interview with Larry Harvey, the director of Burning Man.
An early experience with such expression came the first evening. Across Jupiter from us one camp loudly played a soundtrack of angrily barking and snarling dogs, which I found instantly unsettling and off-putting. I inquired whether it had been played much, only to learn that the day before they'd turned the volume up so loud that the dogs could be heard at Center Camp many blocks away … and left it looping for HOURS. "It's their form of art, I guess," said Emily. I smiled grimly.
Thankfully, they didn't play the dogs much after the official start of Burning Man, and truth be told, you simply have to resign yourself to the ambient noise. No night even approached anything like quiet … we often experienced the overlapping beats of two techno-playing clubs, each a block and a half away in opposite directions. Art vehicles drove past emitting the sounds of screeching monkeys, party music, a man with megaphone berating and degrading onlookers, etc. The folks at the large shade structure next door had a full band setup. The guitarist serenaded us with the Star Spangled Banner every morning, initially in the style of Jimi, and then played and sang other, sometimes awful, self-penned numbers or covers. And of course there are the sounds of 35,000+ people having a week-long party on a flat stretch of hard, arid, salty desert.
Self Reliance
People from all walks of life attend Burning Man, but these people have a peculiarity. They're willing to live in the inhospitable, dusty desert for a week, carrying in all necessities and carrying out more — including MOOP: Matter Out of Place, or dropped stuff — to participate in an experiment in community that is unlike anywhere else on our planet Earth. We could as well have been on an oxygenated moon.
The physical challenges one faces at Burning Man involve staying healthy, which includes hydrated, fed, shaded, warm at night and hopefully somewhat rested. For example, without enough water one becomes cranky. Being quick to anger, moody, and other negative results affects one's perception of the whole experience and — on some level — everyone around you. They say if your relationship survives Burning Man, it'll survive anything … which leads us to the psychological challenges. Because the event is so unusual, some might find their personal reactions liberating, or difficult to deal with. My advice to those considering going is to visit BurningMan.com and read the Event Survival Guide.
Temporary Community
While self reliance is definitely a pivotal factor in the experience, community is at the core of the event. There was a lot of playa dust, toplessness & nudity, gift-giving (it's a gift economy after all), friendliness and kindness, fantastic costumes, volunteers for many needs, fire-performing (poi is only one form) and fire art, body painting, raver toys, scores of impressive art pieces, cowboy hats, dust storms, goggles, dust masks, beautiful bodies, geodesic domes, furry leg warmers, bicycles, theme camps (both for public and private use), porta-johns, free happy hours (some were even mobile bars), dance spots, open-air showers, amazing blinky lights in forms I didn't even know existed, water bottles and CamelBacks, dust devils, foreign nationals speaking foreign tongues, tattoos, people hugging…
What we didn't encounter: pets (except the people across from us, who had been there for weeks and had special permission to have dogs), cell phones, PDAs, computers (though I hear there is wireless access), televisions, road rage (once there, most people stayed put), advertisements, people in a hurry, anything to buy (except ice, coffees, teas, and hot chocolate), trash cans, running water, media intrusion, angry people, rudeness, news, precipitation, a way to get truly clean, any talk about work back home, plants, wildlife (save a few insects and birds), bands (in the sense of a music festival), etc.
This year Black Rock City was the tenth largest city in Nevada for the week, and it's been laid out more-or-less the same since 2000. The man is the center of all radii and axes, set in an open circle of desert approximately 7/10ths of a miles across. Around the edge of that circle (two-thirds of it, anyway) is the Esplanade, a boulevard defining the beginning of the camps. Roads are laid out, the axes named for times (2:00-10:00 in half-hour increments) and the radii this year for the planets (2004's overall BM theme was "The Vault of Heaven"). At 6:00 and Esplanade is Center Camp, a large circular tent structure surrounded by some theme camps (they also line Esplanade) and all necessities like medical treatment, attendee information, post office, Black Rock Rangers, and the ice and beverage vendors (all proceed are donated to the schools in Gerlach).
Between 10:00 and 2:00 is more open desert. In this non-campable space (including around the man) is where you find many of the art installations. Promenades lead out to the man from 3:00, 6:00 and 9:00, and a fourth leads towards the temple along the 12:00 axis.
Arts Festival
The art one sees is not for sale (at least not at BRC) and isn't even identified on-site — the What, Where, When guide lists artists and artwork by location dots on the BRC maps, but only some of it.
So what did we see that isn't pictured below? Art comes in many forms, some lasting, some etherial. One of my favorite sights came early in the week along Esplanade near Center Camp … an open air Tesla Coil (the "Extra Small Array") three or four feet across. It operated for several minutes after we arrived, until the generator started throwing off flames (or was that on purpose?).
Some art pieces incorporated pyramids and many included light accents for enhanced night time appreciation. One string of identical pyramid structures, tall enough to easily stand under, stretched towards the man from Sol Henge at 10:00. At night the lights on the pyramids strobed in long varying sequences. Another light display, Alien Semaphore, seemed to be constructed of large sticks of white neon on pivoting arms, each flowing in a succession of arcs (kind of like doing the wave). Then there was the glowing walkway. This structure was made up of hundreds of long strands of blacklight-reactive string suspended from a support, arranged in distinct strips of colors, which you could walk through for 30 or so feet. It was like moving through thick, dense, glowing strands of neon hair. Very trippy.
There was a roller coaster in a U shape, with a rotating compartment for folks to sit in as it arc'd back and forth. At another spot was a wood cube suspended from springs. Though we didn't go inside, we were told it was lined with mirrors for a disorienting experience as you're bounced around. There was also a giant (and I do mean giant) rocking horse. It was always occupied when we were in the vicinity, so riding it remains one of the many things I didn't get around to doing.
Also along Esplanade was the Black Rock Roller Disco. People danced to funk day and night in their in-line skates (some at a skilled performance level), and a pile of old-fashioned roller skates meant anyone could join in. On the inner circle's edge was Thunderdome, and flame-throwing Mad Max inspired art cars made appearances all week. An awesome jellyfish vehicle also floated around the playa, but none of the photos I've found so far do it justice. There is a sampling of art cars pictured below.
While I didn't photograph them, we visited theme camps like Hookahdome, Bop, Sol Henge and the Winking Lotus (with a fabulous winking eyes sign). There was also a Lite Brite camp! You'll find a little more about these and other camps among my photo captions.
Realities
Because the first half of the week was pretty windy, we reworked our tent-covering tarps daily to further secure and tighten them. We had no problems until Wednesday, when a night-long dust storm broke the primary center pole, leaving our tarps slumped over the secluded meeting space created between our tents. An easy fix righted the pole the next day, but from then on we had much less wind and our tarps remained deflated-looking. Next time we attend BM, Kevin and I hope to bring our own dome and run our own theme camp.
The only real downer of the week was Tuesday, when Michelle's bike was stolen while she ducked into a dome for 5 minutes looking for someone. Earlier that day Mr. Mike's hat was taken (possibly mistakenly) while we were sitting at Center Camp. We ran into someone else who's bike had also been taken or borrowed thoughtlessly too. It seems that some people come out of places too tired to walk back to camp, so they just pick up a bike, discarding it at week's end. BM's organizers begin to deal with the "leftover" bikes on the Monday after the burn. This left me (and only me) using my bike lock the rest of the week. Maybe I'm paranoid, but I also have a nice, practically new bike, and my two previous bicycles were stolen. Oh well, I guess you'll find all types at an event attended by 35,000 people. When asked, Emily cautioned that the night of the burn can be costly in terms of stolen camp items, so I put valuables in the van that evening. Thankfully, nothing appeared to be taken.
Experiences
The Sunday night we arrived, a group of us walked out to see the man (roughly a couple miles away), perched atop his own Bucky dome and outlined in blue neon. There seemed to be rooms being assembled under the dome, but everything was still in progress. We then headed further on foot towards the Temple of Stars, a large structure designed by artist David Best and assembled during the week, then burned the night after the man. Walk, walk, walk, and we'd only reached the Nova System (artwork on the Esplanade radius), and we still had a good distance to go. My feet were hurting in my Naots, Michelle declared that it seemed to be much further out than her last time at BRC, we were getting tired (it was late back on the East Coast!) and so decided to turn back. Besides, we had a week to make it out to the temple, and bikes back at camp. We had a good night's sleep.
Monday morning Kevin got up early and rode his bicycle around the entire camp and out past the temple to the fence (where he spied a woman giving a man a blow job). That was the only overtly sexual act I recall anyone mentioning seeing, but there are some camps where things go on out of the public's eye. We didn't visit any of those places, but the fact that the survival guide we received in the mail said, "Sex acts are prohibited in the civic space of Black Rock City and in unrestricted public environments…" makes it clear they happen elsewhere. In fact, I'm convinced that a camp near us was one of those places. That camp was Jiffy Lube, with a slogan of, "Get In, Get Off, Get Out," and a description in the program booklet starting, "Man2Man4Play ALL DAY…"
The only bathrooms available are the porta-johns, which are pumped, hosed down and restocked regularly (though toilet paper wasn't always available). On the inside of every door was taped a little pink slip of paper advertising Pee Funnel Camp; each pink slip had a different and amusing message extolling the virtues and uses of the pee funnel for ladies. I finally made it by the camp on Friday, but of course the tens of thousands of pee funnels they'd brought had already been distributed. Not that I really needed one.
At Center Camp one day, Kevin and I got caught in a dust storm. We ducked into Camp Tanabata, a place where you could glaze your own Japanese Tea Bowl and have it Raku fired (sadly, I never made it back during designated glazing hours). Adjacent to the pottery dome was Camp Tanabata's "Festival of the Stars." We huddled inside this dome, ceiling painted with Asian constellations, and were invited to write our "wishes, heart's desires and haikus on tanzaku strips (cloth)," and to tie them to bamboo out front before they were to be "cast into the river of fire" later in the week. Kev and I each wrote two wishes; at least one of them involved the cessation of dust storms for the week. That particular wish wasn't granted in full — we biked back before that storm abated — but there were none the day or night of the burn.
Once while I bicycled along Esplanade a man came bounding out of his camp, insisting I stop. He promptly oiled my chain with a handy can and sent me on my way, with only a kiss on the cheek as thanks. Later in the week I received other gifts … an African necklace from our campmate Hy and some homemade stickers with artwork by Venus, a friend of Michelle's. I also received MOOP Ben recovered, in the form of a green blinky bracelet.
A little more than halfway through the week, Kevin and I decided we needed to extend our food supply. Catching the $5 shuttle at Orion's belt (ours was a customized bus with a wood interior and sleeping lofts), we took the two-hour round-trip to Gerlach and Empire. If we'd wanted to drive our van out and back, the return fee at the gate would have been $20 per person. (They want you to use the shuttle.) The Burning Man calendar I bought at Empire had four of our campmate Bucky's photos in it (he's an official BM photographer).
Opportunities
The What, Where, When guide presents all of the repeating and one-time events happening at various theme-camps and other locations throughout the week. There's a LOT going on, hopefully something for everyone. Maybe next time we'll attend more events, but this time Kevin and I were content exploring by bike and looking around on our own.
That said, I was especially sorry I missed the following:
Frank & Figure Study — "We will be convening in the shade to draw & be drawn as our ears indulge in Joe Frank's radio sketches of humanity…"
How to Make the Federal Government Pay for Your Burning Man This Year — "We might as well get something other than a war for our tax dollars…"
Bill Hicks Bloody Mary Revival Service — "Don't leave the playa w/out being inspired by bloody marys & Bill Hicks. Bigger, better & more third eye sqwee-gee-ing than ever before…"
Spiritual Accounting Office — "Come by & claim your Refund for your suffering over the prior Spiritual Year. Our crack team of Spiritual Accountants & Refund Specialists are here to assist & serve. Our records indicate that YOU are due! Please come file your Return & help us bring the universal accounts back into balance."
Among the more than 700 scheduled events listed in What, Where, When were also: The Hug Center, Dance the Hokey Pokey (at Hokey Pokey Planet [… what if the Hokey Pokey is what it's all about?]), Introduction to Qigong & Taoist Yoga, Poly High Tea, life-size Rock'em Sock'em Robots, The Zen of Improv, White Trash Breakfast, Recess Fun!, Pre-Critical Tits Liquid Latex Body Adornment, Silent White Procession, Goddess Ritual Dance, Surrealist Games and Yorkshire Tea, etc. And, of course, there was…
The Night of the Burn
At about 9:00 our final night there (Saturday) we were ready for the burn. Gussied up in our outfits and prepared to be out 'til dawn, 12 of us Fraggles (what we called ourselves) made our way out to the man. It was a carnival for adults out there on the playa. The art vehicles cruised in their fabulous night time lights, some throwing flames. Blinky toys, light sticks, elwire (flexible neon wire), etc. adorned most people in some form. Music thumped from myriad partying locales.
We crowded around the man, his arms raised. There were fireworks first, then flames started low on the dome. It took some time for the flames to engulf the whole structure and the man, and about 15 minutes later the dome finally collapsed in the raging fire. See my animation of the burn (large at 500k). [Sorry I don't have more night time photos, but my camera just couldn't handle it.]
After the cheering and all, we Fraggles made our way to a nearby dance party, shed our water packs and coats (while Kevin guarded them) and danced. I hadn't danced all week, so I grabbed every opportunity that night to shake my stuff. As we left that first place a man approached me, thanking me for being such an enjoyable dancer to watch. I really appreciated his comments, because I've been working on my free-form style, incorporating elements of belly dance and other dance styles I've studied. (I've been a little shy about free-form dancing and feel like I'm starting to come into my own.)
We roved the playa much of the night, from dance spots like Sol Henge (with an artist above the stage painting to the beats) to art installations, from the temple (where we walked the quarter-mile length and saw a wedding concluding) to fire performers to various theme camps. We cuddle-puddled for some time at Stardome and wandered by the most amazing light exhibits currently possible. One was Tensor, a panel of hundreds of LEDs making morphing eye candy. Another consisted of two curved (maybe acrylic?) panels giving off visual delights … I have no idea how the effects were achieved.
Our Fraggle group finally ended up at the Winking Lotus, crashing on the floor. Kevin and I departed soon thereafter (dawn was approaching) and walked around the camp roads, taking in our last morning in Black Rock City. Just as we arrived back at our camp we heard a distant whooshing and turned to see someone blocks away making huge smoke rings (my animation of that is the last picture below). Our campmate Venus arrived about that time and watched with us. Later she commented on the wasteful use of our natural resources for such follies, especially while we're at war over oil. That remark has stayed with me since, causing reflection on how Burning Man can be made more planet friendly. Groups like Recycle Camp give me hope that workable sustainability practices can be found.
Final Thoughts
Everything in this travelogue is just a small fraction of the entire picture. I could include a thousand more photos and more prose, and none of it would give you a true idea of what Burning Man is about. That's because the sense of community can't be communicated, it can only be experienced.
Oh, I forgot to mention here that my birthday happened during Burning Man. I'm 37 now.
Start the slide type presentation (caution at work.)…
…or select any of the following thumbnails to see more:
Artwork
Camps
People
Scenery
Department of Mutant Vehicles
The Night of the Burn
See my Burning Man 2005 Travelogue,