HOME > TRAVELOGUE > BURNING MAN 2006
Travelogue
Burning Man 2006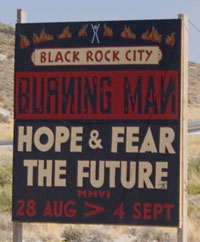 Theme: Hope and Fear: The Future
Temple: Temple of Hope, by Mark Grieve
Streets: Anxious, Brave, Chance, Destiny, Eager, Fate, Guess, Hope, and Second Chance (the loop around Center Camp)
Under the Man: A pavilion with divided rooms, some filled with art.
Population: ~40,000
Links at BurningMan.com:
Not all of these links work as of this date, but hopefully soon…
• What Is Burning Man 2006
• 2006 Afterburn Report
• 2006 Burning Man Census
We camped at: 4:30 & Anxious
Thank You…
…to my friend Dorian Winterfeld for writing a Perl script to auto-generate this travelogue's slide pages, from my template.
Burning Man 2006—Black Rock Desert, NV
August 28-September 4, 2006
[Skip to Photos or start the Slide Presentation (caution at work).] [Last edited October 4, 2006.]
Burning Man is an annual art festival and temporary community based on radical self expression and self-reliance in the Black Rock Desert of Nevada.
There's a good general overview of what this event is like in my Burning Man 2004 travelogue, including ~100 photos. I also have a travelogue up for Burning Man 2005 with ~280 photos. What follows are my memories of the 2006 event, with ~265 photos on 165 slides.
Getting There
Last year on the playa we met Lusty (a.k.a. Joyce). We kept in touch after the event, and Lusty contacted us in April, asking if we'd be interested in flying to Oakland and traveling in an RV she and friend Cat were renting (Cat is not a camper). We checked airfare, and found that American Airlines was running a special round-trip fare for $140 per person, less than half what other airlines were charging! That, combined with the company and an opportunity to spend time in the Bay Area again clenched the deal. So the Sunday before BM, we arrived in Oakland, were picked up by Lusty and met Cat back at the house, where the RV was already waiting. Lusty owns a salon in the East Bay, so we whisked over to it and got quick haircuts and dye jobs. We then packed the RV, did a little last minute shopping (Lusty and Cat had taken care of most of it already) and were off for the playa before midnight.
Arriving in the wee hours, tired from the day's activities and long drive, we headed straight down 4:30 and looked for the first available spot. We got to Anxious, one block from Esplanade, and found an empty corner. Parking, we pulled out some lumber and other things we'd brought to mark the space we needed, and hunkered down for a bit of sleep.
Lo, the next morning we learned we were in the back yard of a theme camp and needed to move. We liked the location and were lucky to be offered space just across the street by Jay & T, a couple affiliated with a group camp that had some extra room, which made moving camp very easy. Jay & T helped us out with extra water and numerous little needs throughout the week … thanks so much!
Goals
Kevin (whose new Playa name is Twist) and I had four primary goals this year:
to volunteer,
to ride on an art car,
to spend a lot more time being social (less time spectating), and
to give gifts away.
Community
The first morning the camp next door played the Vagina Song (performed by the fabulous Richard Cheese), which became the morning wake-up call throughout the week. They played a lot of fun music and were nice guys to boot (Chuck, Jim, Murph and Todd). Murph prepped and Todd did a great job painting Cat for the Critical Tits bike ride (I also brought body paints, did a large pink and yellow flower for Lusty and a rainbow lotus pattern on myself). I had an interesting conversation with Dr. Jim at the end of the week, about massage therapy, transplant surgery, boating and various other things (keep me in mind if you do that around-the-world boating trip!).
Monday night we were invited to a Leopard Martini Lounge Party by Armadillo and Edge, two members of DC's PDF Fire Conclave team, for which we'd volunteered as safeties (more about that later). Being transplants from the Bay Area burner scene, their party had both east and west coast attendees, and this is where we met Sunshine and Glimmer of Playatech fame. S&G are accomplished folks, who are not only working and raising a family, but are heavily involved in the Burner community at home as well as at Burning Man. They were part of a larger camp, sported Playatech furniture (for "rapidly deployable lifestyles") at their headquarters as well as their art car, which was largely made from plywood with a pole on back for dancing. This year they'd also made their first art piece for the playa, Fire in the Belly (photos and more info here and here).
We ended up spending a bit of time with Sunshine and Glimmer off and on during the week, enjoying a bacon and eggs breakfast at their RV and riding around on their art car, including an extended stop at Uchronia (a.k.a. the Belgian Waffle) for people watching and dancing. They were key in giving me a wonderful playa birthday, starting at 12:01 am with a pole dance by Glimmer and a serenade by Elvis. Lusty and Cat also made my birthday memorable, with pleasant wishes and nice gestures all day long. (I have to admit that I was off by one day, which I realized the following morning. How embarrassing… and I took some ribbing!)
On Tuesday or Wednesday Lusty met Larry from OBOP Camp (Ojai Bureau of Pleasure) while getting coffee. OBOP was a large, well established community in a prime location at 8:37 and Esplanade. The folks we met there were warm, welcoming, interesting and really had their act together. Their extensive camp sported numerous RVs and campers, all run by a centralized biodiesel generator. If I recall Kurt's explanation correctly, this power supply extended into dozens (hundreds?) of individual camps across the areas bordering their locale. I was pleased to meet Judy (Jellybean, as Lusty called her), Rocky, Larry, George (you cutie!), Lutz and Kurt, among others. Hey, now that I'm looking over their camp plan, I see they had a member named, Tseday ... I wonder if this was the same Tseday we met our first year?
OBOP also had a performance tent, a geodesic dome, the Talk to God phone booth (and God Throne), two art cars (the Emergence praying mantis and Ganesh, a copper ship), gongs for the ringing, numerous events, and more. Photos of some of these things and people are sprinkled throughout my travelogue, but I'm sad to say I never captured George, Lutz, or Kurt (anyone care to send pics?).
We also spent a bit of time on the OBOP art cars for three nights. At one point Lusty and I were out on the dark playa bicycling and chatting, found Emergence and Ganesh, clasped on and enjoyed being pulled around … until we were accidentally separated when the two vehicles went off in different directions. I figured they'd come back together eventually (nope!), and hung with Ganesh for hours (thanks for the conversation, Larry :o). Larry and Rocky took care of me as we traveled from hot spot to hot spot (the laser show at one place was really fabulous, especially in the dust-cloud breezes). Lusty still had my coat stuffed into her bicycle's basket, so when I started getting tired and cold I snuggled into the boat's furry softness just to close my eyes a bit. A little while later I became aware we were moving again, and discovered Rocky had propped my bicycle across the bow above me. Back at OBOP, Larry outfitted me with a coat for the cool bike ride back home.
Volunteering
This year we volunteered in two ways: as fire guardians for the sculpture Duel Nature by Kate Raudenbush, and as fire safeties for DC's PDF Fire Conclave Team.
Duel Nature (photos here) was a metal and mirrored red plexiglass sculpture placed at the Center Camp keyhole. We got the "volunteers needed" call through our friend Brenda, and thought guarding the sculpture one evening would be a neat way to spend three hours. We attended Kate's instructional meeting and sported special staffs as guards.
Brenda was also instrumental in getting us involved with the PDF Fire Conclave Team. Fire performers from around the country join together and compete as teams to be chosen to perform at The Man just before he burns (photos starting here). Since we haven't learned to spin fire ourselves, we agreed to help out with safety duties. We attended practice and the video shoot for entry, and when the team was chosen as one of 35 selected, we received special passes for the coveted inner circle on burn night. Not only was the location good, but we were on the inside of the inner circle (as not to block spectator's views), and I had an unobstructed view of The Man for photographs as he burned. The heat was palpable. We hope to do this again.
Gifts
Twist and I brought lots of gifts to give away: dozens of crystals and minerals from our collection; numerous heirloom tomatoes from our garden; buttons I'd acquired that said "This is my best day ever!" (plus a couple others); a 15 year-old bottle of Tequila to be donated to a bar (Lusty ended up taking it and two other bottles to a Decompression party at Sunshine and Glimmer's, including some chocolate wine that Wineman made and gave me for my birthday); cigar boxes, and other odds and ends. We enjoyed giving things away, and ran out before we really wanted to.
We also received some very nice items: Buttons and stickers and magnets; hand-carved stone necklaces; raw sapphires mined by Dr. Jim and his family (from an RV-sized amount of clay) and BM t-shirts; two glass relief pieces depicting The Man and a Burning Woman; a rubber ducky bride; a small leopard-print shoulder bag and matching hair ties from Glimmer, including a Playatech lighter; a nice-sized sequin tiger applique; something that looks like a martial arts star, but is actually a punched metal thingy with different expressions on The Man's head; numerous pieces of clothing from Lusty; the coat from Larry and chocolate wine from Wineman; and more.
Summary
Basically, this was our best year yet. We heard others remark that it was also their best year. Magic was in the air. I seem to be having a much harder time adjusting back to Camp Reality. Burning Man really tweaked my whole being this time around, not just physically but mentally too. Since we met a lot of very interesting people on the playa who are doing fun and amazing things, this has caused me to reflect long and hard on how I "participate" with the event ... and I'm finding myself having difficulty focusing on the mundane aspects of life now that I'm home. I'll be embarrassed if I go to Burning Man again without at least an art bike, and preferably an art vehicle or piece of some kind for the playa. I've already started thinking about what I could do for next year's theme: The Green Man (concerning humanity's relationship to nature) … or maybe I'll just do my own thing.
Start the Slide Presentation (caution at work)…
...or select any of the following thumbnails to see more (a "+" next to the thumbnail indicates multiple photographs on that slide):
Art and Activities
Camps
Department of Mutant Vehicles (Art Cars)
People
| | | | | |
| --- | --- | --- | --- | --- |
| | + | | + | |
| + | + | + | + | + |
| | + | | + | |
| + | + | | + | + |
| + | | | | + |
| | + | + | | |
| + | | + | | |
| + | + | | + | |
The Man and the Temple of Hope
Critical Tits Bike Ride
Miscellaneous Images
Conclave, Burning the Man, Temple, etc.
Leaving
| | | | | |
| --- | --- | --- | --- | --- |
| + | | | | |